As the first article in this series highlighted, too many people are spending too long in an acute setting, well beyond the point of clinical need.  One in six beds in these hospitals are occupied by patients who would be much better served in their usual place of residence. 
Furthermore, with an elective backlog of almost seven million, one in eight people across England are currently waiting for operations and other types of care, and ambulance response times are at an all-time worse. Unprecedented operational challenges are anticipated for the winter period.
Therefore, it is imperative that post-discharge short-term health and care services increase in capacity, improve in quality and effectiveness, and can support system flow for both urgent and emergency care and elective recovery. Indeed, the new Prime Minister Rishi Sunak has made tackling delayed discharges a key priority and ensuring there is an available workforce in the community to deliver timely care.
To support the safe and timely discharge of patients from hospital and to ensure that people continue to receive the care and support they need after they leave, a wide range of supportive material has been produced grounded in research and practical learnings of existing Discharge to Assess (D2A) models.  The Department of Health and Social Care (DHSC), Local Government Association and the Association of Directors of Adult Social Services (ADASS) have all released guidance for organisations and local systems on implementing best practice Discharge to Assess and community support. These include:
Managing transfers of care – A High Impact Change model: Local Government Association (2020)
Hospital discharge and community support guidance: Department of Health and Social Care (2022)
Quick Guide: Discharge to Assess:  ADASS (2021)
The most recent guidance was outlined in July 2022 by The National Health and Social Care Discharge Taskforce. Based on their learnings from NHS and Social Care pilots, 10 best practice initiatives have been identified. 100-day discharge challenge – Improvement – NHS Transformation Directorate (england.nhs.uk).
Maturity Matrix
From the various national guidelines, alongside discussions working with a number of organisations and systems around D2A, Akeso has developed a D2A and community support maturity matrix. This helps organisations (for example, acute trusts, local authorities and ICSs) to understand what needs to be in place for D2A to work well.  There are 36 factors across 7 different domains which all need to be in place,
The 7 domains, as part of a high-level D2A operating system are set out below: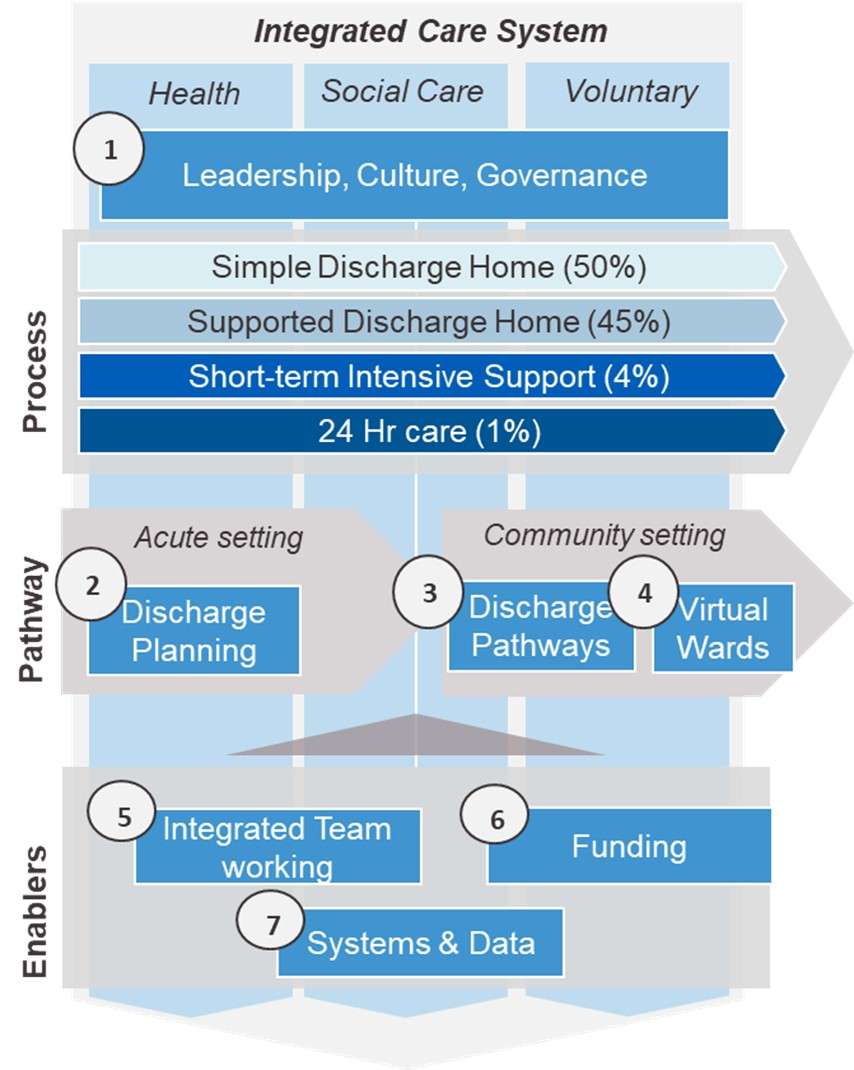 Key 'essential' D2A priorities we recommend organisations focus on, which can be delivered in a phased approach to implementation include:
Short term (0-2 months) Discharge Planning: Setting up consistent processes, ensuring early multi-disciplinary engagement and planning for discharge on admission.  This is something that organisations could be progression before winter.
Medium/longer term (2-6+) Integrated Team Working: Potentially has the biggest impact for patients and covers 25% of D2A best practice initiatives.  Includes systems optimising workforce capacity acute, community and social care settings, for example from joint team working and a pooled workforce
Medium/Longer term (2-6months+): Virtual Wards:  Implementation of a tech enabled virtual ward, would require the appropriate infrastructure, funding and resources to be in place, which has shown to improve patient experience and nursing and clinical workforce productivity
As set out in the D2A operating model, D2A priorities would need to be underpinned by robust leadership and governance, and vitally, the appropriate D2A system-wide culture.
Using this framework, we have also developed a more detailed assessment matrix which allows any organisation to assess their current level of maturity against these factors. Details of what "best practice" looks like across these different factors are shown below.
D2A and Community Support leading practice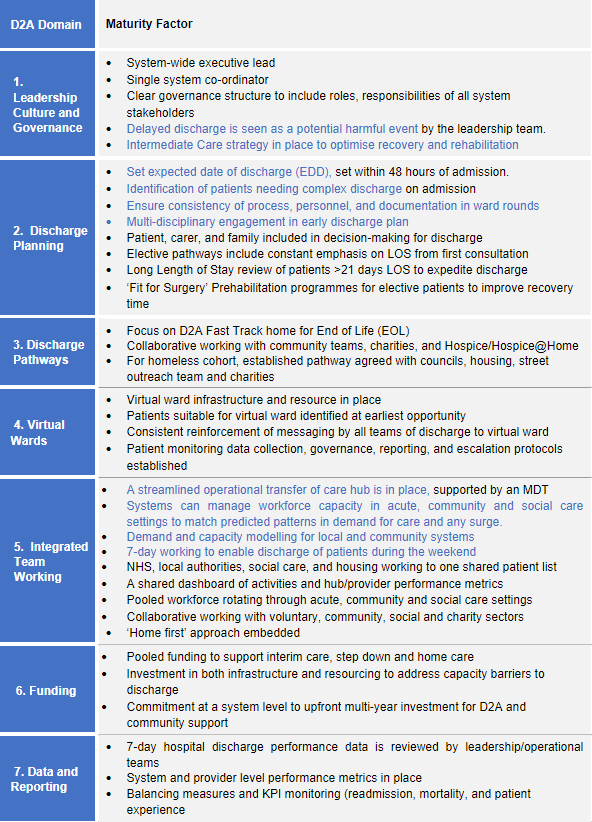 We recommend that, as an organisation continues to develop its D2A capability, it uses this D2A maturity matrix to inform the programme of work that is required.  To request Akeso's D2A maturity matrix, and if your organisation requires any support in implementing D2A best practice initiatives, please contact Mike Meredith.
In addition, based on the D2A maturity matrix, Akeso have put together a short D2A survey for D2A leaders, Organisations and system leaders.  Organisations and systems completing the survey will receive a tailored benchmarking report against their peers.
The next article in this series will focus on how technical innovations, for example tech enabled virtual wards, can improve patient experience and discharge effectiveness, followed by a D2A implementation guide.
Contact our experts