Akeso & Co supported Homerton University Hospital Foundation Trust (HUHFT) in the design and implementation of a Scan4Safety Programme and Inventory Management System (IMS). Captured in a detailed business case, the initiative is set to drive significant operational efficiencies and improvements to patient safety and care.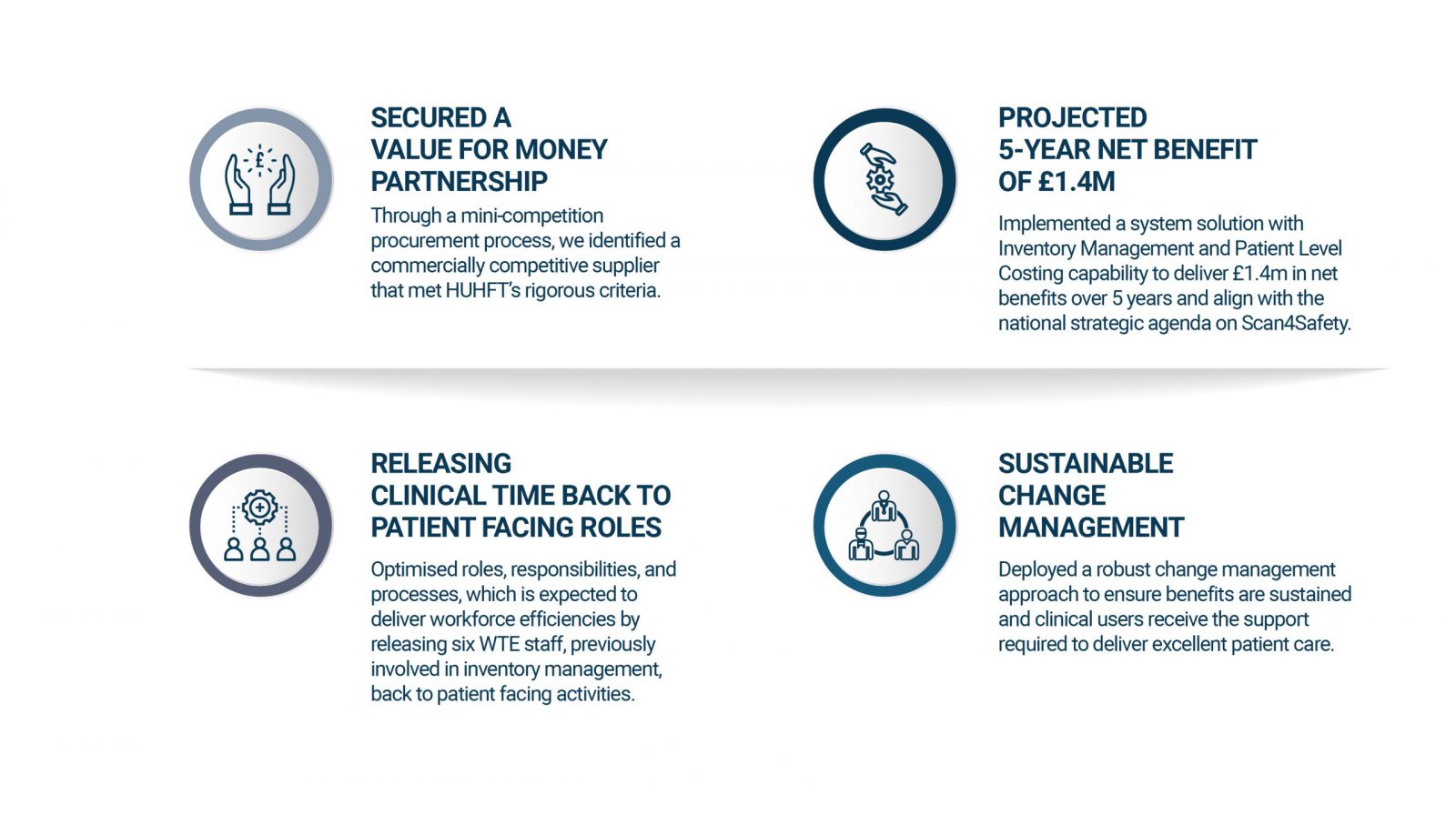 Challenge
Homerton University Hospital Foundation Trust (HUHFT) is a major NHS provider of acute care in the London Borough of Hackney. With services spanning 75 locations across East London, including approximately 450 beds, 11 wards, three day-surgery theatres and six main operating theatres, HUHFT has a complex set of services and supporting supply chain.
Following a thorough opportunity assessment, a number of challenges were identified with regards to the current operations, accumulating in clinical time wasted, health and safety risks, as well as opportunities for cost improvements.
Some of the key challenges identified include:
Inefficient and inconsistent supply chain processes across wards and departments
Lack of visibility and control of inventory levels due to limited reporting capabilities
Segmented spending on products and consumables across wards and departments
Limited traceability of theatre implants through the supply chain to procedure due to manual processes
Strained working relationships between clinical and material management staff
Solution
To address the challenges identified, the project recommended HUHFT would benefit significantly from a Trust-wide IMS to improve inventory management and achieve patient-level costing. We supported HUHFT through a three-phased approach from business case development through to successful implementation.
Phase 1) Secure investment through a robust business case
With the support of key HUHFT clinical and operational stakeholders, we developed a compelling business case and secured the required backing to proceed to procurement. Through a detailed appraisal of the potential qualitative and quantitative benefits and risks, it was identified that implementation of a trust-wide IMS could deliver £1.4m in benefits over the next five years, from an initial £469k one-time investment.
Phase 2) Source and partner with the optimal provider
Following a route to market assessment, we facilitated a phased procurement process through a formalised 'mini-competition' to assist the Trust in their rigorous selection of a suitable IMS provider. Through taking this approach, we were able to secure an optimal solution balancing system capability and total five-year cost.
Phase 3) Implementation through rigorous PMO and change management
We project managed the implementation of the new IMS and change management of associated processes encompassed within the Scan4Safety programme, reporting to the patient safety board. From the outset, programme governance was implemented to ensure the new system and its related benefits were achievable and sustainable.  This involved the recruitment and setup of a programme board of Trust directors, and the chairing of regular meetings and presenting programme updates at Trust-wide Scan4Safety engagement sessions.
Results
The full benefits of the IMS solution will be seen during the next five years but it is already delivering significant savings and process improvements.
The one-time investments equating to £469,000 and subsequent improved processes is expected to generate £1.4m in cost savings, including:

In addition to the projected quantitative benefits, implementation of a Trust-wide IMS is also expected to deliver number of qualitative benefits, including:
A reduction in the likelihood of 'never events' thanks to the patient level costing functionality which improves the traceability of implants, surgical instruments and medical equipment.
The release of up to six clinical WTEs, allowing them to re-focus on patient facing activities.
Automated processes, such as Barcode-driven ordering, that drive efficiencies in areas including procurement and recall.
Additional management information insights that enabled further efficiencies.
Increased clinical confidence in supply chain processes.
Compliance with GS1 and Scan4Safety.
What is next for HUHFT?
Following the success of the IMS and Scan4Safety pilot programme, HUHFT will continue to drive adoption of Scan4Safety to extended use cases, including potentially Blood Transfusion Scanning, Pathology samples, eMedicine, and many more.
Contact our experts