How hospital grade remote monitoring technology can enable the delivery of high-impact patient outcomes.
Technology-enabled Virtual Wards have arrived, are you ready?
The NHS must establish 24,000 Virtual Ward beds by December 2023 to support a targeted increase of 30% in elective care procedures by 2025. The delivery of effective 'in-hospital' patient care depends on reliable communication, monitoring, and alerts. Maintaining this level of care efficiently and effectively in a Virtual Ward, outside of the hospital, requires reliable, trusted, proven and privacy-compliant solutions for timely detection, prevention, and treatment. Masimo SafetyNet® is a Digital Health platform from Masimo, whose innovative monitoring products have been in use across the NHS for over 15 years, with a proven track record of success.
Masimo SafetyNet is an example of Virtual Ward enabling technology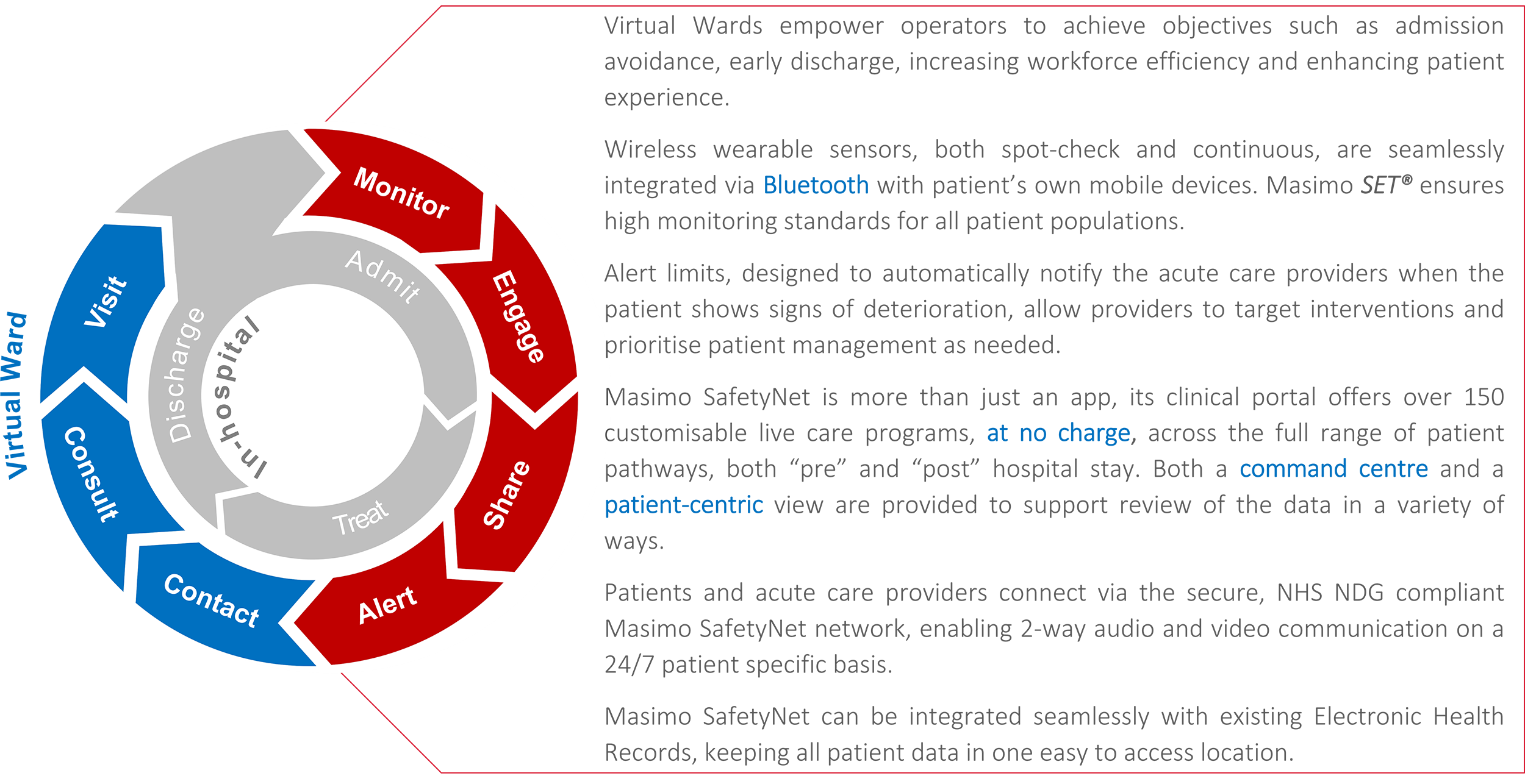 For Patients: Technology-enabled Virtual Wards help assure higher-acuity patients that they remain under the watchful eye of clinicians even following discharge to their own home.​
For Acute Care Providers: Masimo SafetyNet offers advanced automation features so institutions can more easily deploy home monitoring, track patient compliance, identify when intervention may be required, and prioritise patient needs whilst maintaining the ability to scale up to meet patient demand.​
For NHS Leaders: Masimo SafetyNet is an effective, easily deployed turnkey solution designed to address the challenge of rapidly establishing and operating Virtual Wards whilst optimising use of clinical resources.
​For an average sized2 NHS Trust, a robust technology-enabled Virtual Ward could…
Masimo offers an end-to-end approach to help NHS providers implement Virtual Wards with the Masimo SafetyNet app currently available at no charge for NHS Trusts. ​
Deployment launched across the NHS; contact Masimo to activate your site!
uksales@masimo.com | + 44 (0)1256 479988