In our first infrastructure article, we assessed the current state of hospital infrastructure across the NHS and looked at the challenges and progress of the New Hospitals Programme (NHP), as a means of improving the current situation. In addition to this, we set out a series of key factors for successfully delivering these type of projects, based on our experience of supporting Treasury-approved infrastructure schemes and capital business cases aligned to the HM-Treasury Green Book model.
In this article, we will further examine the theme of NHS infrastructure and put forward a set of recommendations for how ICSs can integrate their estates and facilities services, focusing on: (1) a clinically led system-wide estates strategy and (2) an ICS operating model for estates and facilities services.
(1) Clinically Led System-Wide Estates Strategy
Legislation now enables ICSs to control and own their estate as a singular entity. This presents systems with the opportunity to manage an increased portfolio of sites and start planning truly transformative estates planning with the aims of delivering integrated care across communities with a singular capital budget. Accordingly, since the formation of ICSs, it is a requirement to develop and publish such strategies.
These strategies should assess the current property portfolio in detail, including its condition, utilisation, and suitability for its current purpose, and outline a forward-thinking strategy for how the estate is best developed and managed to suit the needs of the patients, staff, and organisations it serves.
With the combination of acute, primary care, mental health, and local government sites, ICSs should re-examine their current estates portfolio and began planning how their sites can be developed, restructure, and repurposed in accordance with clinical need. During COVID, systems moved quickly to deliver vaccine centres and PPE hubs from pre-existing locations, demonstrating the ability to transform and maximise the value of space for the purposes of patient care.
This exercise should be completed in alignment with population health management planning. From our experience, systems can deliver significant value through delivering shared services in shared space, and divesting the location of specific services from one location, and implementing them in another, commonly community based, such as community dental practices, physiotherapists, occupational therapy, and maternity outreach, to name but a few.
Based on our experience of supporting ICS estate strategies, we have defined the following four factors as being key for a successful clinically led system-wide estates strategy: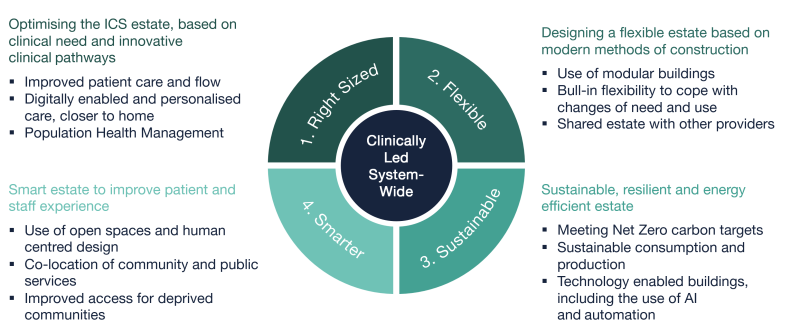 (2) An ICS Operating Model for Estates & Facilities Services
In addition to developing these strategies, the formation of ICSs also allows systems to transform their operating models for the provision of estates and facilities services, including the delivery of new governance and management structures, service delivery models, and the provision of enabling services, such as E&F teams, systems and data management, and third-party providers.
Akeso recently supported one the largest ICS in the country to develop a system-wide estates and facilities category strategy based on the options set out in ICS operating model below.
This strategy defined a new operating model for the system and set out a transformational programme of project delivery to leverage geographical synergies, exploit combined scale to increase service investment, develop a coordinated approach to service provision and management, as well as implementing collaborative procurement functions and processes and SRM scorecards. Specific projects included the development of E&F workforce training and retention strategies to work cross site, combined utilities purchasing arrangements, and cross-system and joint supplier and contract management arrangements.
In our final article of the series, we will discuss how NHS providers and ICSs can utilise their estate to deliver upon their social value aims.
If you want to understand more about developing successful business cases or how to shape an infrastructure and estates strategy, please get in contact with Peter Marshall.
Contact our experts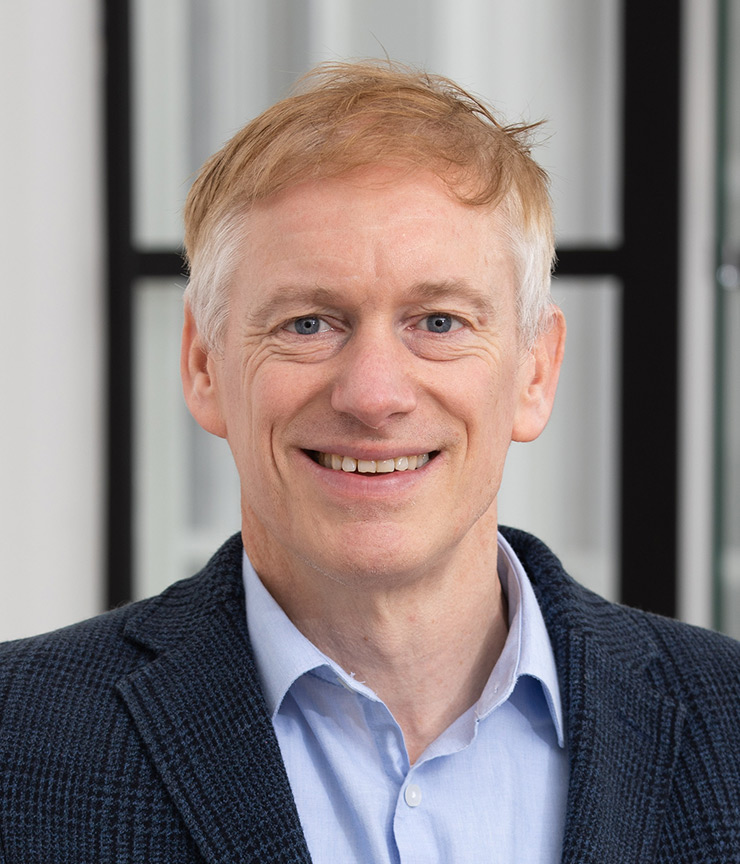 Peter Marshall
Associate Director